Want to learn how to do pancakes? To learn how to prepare Pancakes is not a bad Idea to most of us, like almost everyone in my neighborhood is in love with Pancakes so I see it as a nice opportunity to learn something that can serve as an extra source of income for myself, even though I found myself in love with preparing meals this days (although, am not good at cooking)💩
Although, my primary motive for learning was to start a business in food line but since I lost interested in the business, I'm left with only one thing; making it for family and friends. And I can say they really enjoy it.
I learnt how to make pancakes with flour the Nigerian style then preparing a variety of it.
Pancake is mostly regarded as a snack (even though it is so) but you should know that it's a well balanced kind of snack.
The major ingredients revolve around protein, Carbohydrate, fats and the other nutrients, So it's nice to say it can be taken in place of that bread you've gotten used to taking at breakfasts.
It's normally taken with chilled drinks but You can have it with custard or oat meal for breakfast to make give you the normal food-feeling.
Now, Let's get down to how to make your pancakes easy; I'll try my best to show you the different types people want and how to make them.
1. How to make/prepare Nigerian Pancakes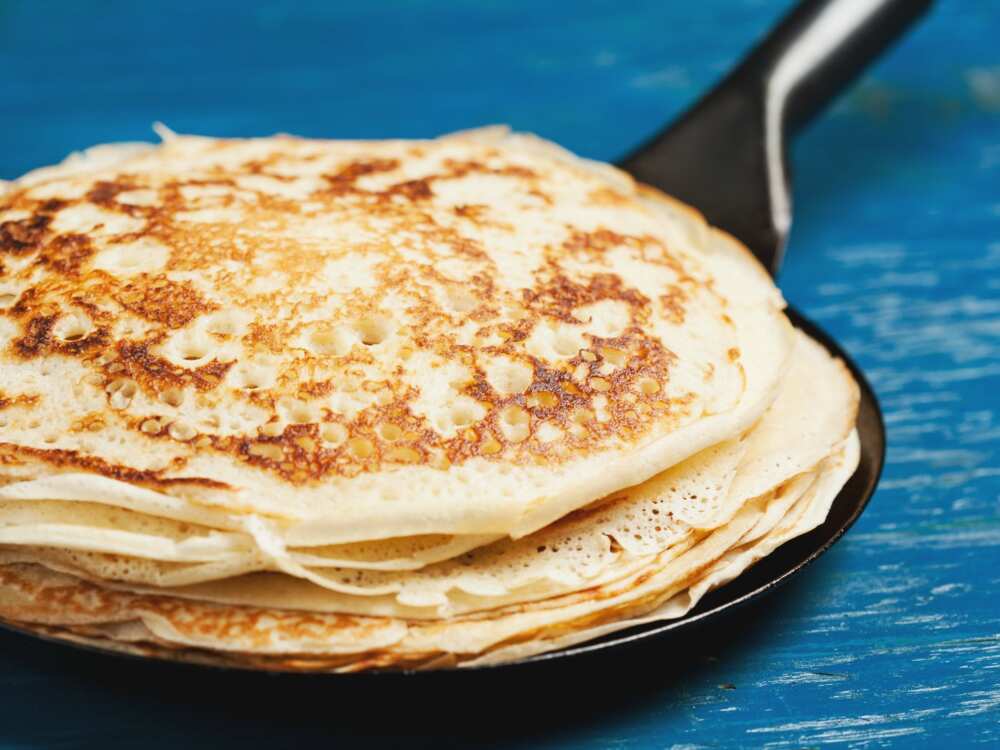 Ingredients for Nigerian pancakes
The following ingredients should be made available before beginning so that you don't get stucked halfway.
a cup of flour (something around 150gram)
two piece of egg
vegetable oil
salt (quarter teaspoon or add according to taste)
sugar (you can have like 6teaspoons but preferably, add to taste)
a cup of powdered milk (125mls of peak milk will do)
margarine (About 2 tablespoons will do)
grounded chili pepper
water
you can add onions (fully blended)
Make sure you have your frying pan around
procedure for preparing Nigerian pancakes
Melt the Margarine by putting it in a bowl and applying small heat; either you place it in a microwave or you place the bowl on the surface of hot water.
break the two eggs into the bowl containing margarine and stir it thoroughly till it smoothens.
add a half cup of water to the mixture
poor the flour and stir the mixture; be sure to stir well till there is no/little lumps in it.
Now; proceed to adding the rest of the ingredients (salt, pepper, sugar, milk and another half cup of water) and stir again.
Now, set your frying pan on the cooker and fry your pancake like you do fry your egg. for those who don't know how: 

set your frying pan on the cooker and add just a few drop of vegetable oil (at least to saturate the pan)
leave it to be a bit hot then our the some of the mixture inside the pan and tilt till it's evenly spread inside the pan.
let it fry for some time (probably 1minute) till the down part turns brown (to your liking) then turn it over with your spatula/flatspoon to fry the other part till it turns brown also.
remove it from the frying pan and poor another one, be sure to always lubricate the frying pan with the vegetable oil.

Taste your pancake and serve if the taste is as desired
Note:
One important thing you should have at the back of your mind is that, your first time of making pancakes may not be as nice as you want. Try as much as possible to take note of the taste so as to adjust the amount of each miscalculated ingredient you used this first time.
2. How to Make pancakes without eggs
some people may not want to have eggs in theirs; probably due to health or other issues so they'll love to have their pancakes made with no egg. To make such, you'll have to increase the quantity of flour a little bit. OR follow the below recipe;
Ingredients for preparing pancakes with no eggs
1 Cup All Purpose Flour
1 Teaspoon Sugar
1/4 Teaspoon Ground Cinnamon
2 Teaspoons Baking Powder
1/4 Teaspoon Salt
1 Cup Milk (I Used 2%)
a Tablespoon Vegetable Oil
1 Tablespoon Water
one Teaspoon Vanilla Extract
2 Tablespoons Butter
Preparation process of pancakes without eggs
Whisk together the dry ingredients.
In a liquid measuring mug, measure 1 cup milk. To that add the vegetable oil, water and vanilla extract.
Stir in the wet ingredients to the dry ingredients. Do not over-mix. Lumps are perfectly fine. Set aside for a couple of minutes.
Heat a griddle at medium-high heat. Once the pan is hot add the butter and let it melt.
Add the melted butter to the pancake batter and return the pan to the stove. Mix the butter into the batter.
When the pan is hot enough, pour a ladleful of batter on the pan for each pancake. Cook until bubbles appear on the face of the pancake.
Carefully flip the pancake and cook until its golden brown.
3. How to make Chocolate/Banana Pancakes
Microwave 4 ounces chopped bittersweet chocolate with 3 tablespoons heavy cream and 2 tablespoons honey in 30-second intervals, stirring, until smooth. Top pancakes with sliced bananas, the chocolate sauce and granola.
Add sliced banana, the chocolate sauce and granola to the top of the pancakes
4. How to make pancakes without flour/Baking powder
Now, not everybody likes the types of pancakes that we've outlined their preparation methods above. some people like my ex don't take flour products, so making a flourless pancake is an option for her to enjoy this great snack. check out the procedures outlined below.
Ingredients for preparing pancake without flour
Oats (gluten-free or ordinary) – 80 grams
Apples – 1 fruit
Nuts (almonds, pecans or anything you like) – 50 grams
Milk – 150 ml
Bananas – 1 fruit Butter (you can replace it with coconut oil) – enough to fry your pancakes
You will need the following tools; Blender, Grater, Knife, Bowl, Non-stick pan, Oven
Procedure for making pancakes without flour
Blend the oats.
Use the grater to turn apple into tiny pieces.
Place most of the ingredients (banana, grated apple, milk, and nuts) into the blender and add your oats.
You should blend them all to receive a nice smooth mixture.
Put a pan on the oven and preheat it. You can go with the medium heat and continue making the pancakes on the lower heat. Remember to put butter or oil to the bottom of the pan so that your pancakes do not stick to its surface while being fried.
When the butter (or coconut oil) melts you can add a ladleful of your mixture to the pan.
It will get the shape of the pan and your pancakes will look nice and round. You will see the bubbles at the top of the pancake while you are cooking them.
Make sure you flip your pancake while it is cooking to make sure both sides are prepared. It usually takes 3-4 minutes to fry a piece of pancake.
now that you are done frying the first piece, bring it down using your spatula or flatspoon, lubricate the pan again and pour another mixture.
replace each fried piece with another mixture till the mixture is finished.
oyah! go and serve your delicious pancakes
Now that you have finished making your pancakes, it's time to serve it. be sure to take it with some nice drinks that can go down well with the pancakes.